THERE ARE NO ROOMS AVAILABLE AT THIS LOCATION
Welcome to Microtel Inn and Suites in Aztec New Mexico

Newly Built in 2013

Great Value and Exceptional Comfort Close to Natural Wonders, Historic Sites and Outdoor Fun

A convenient, comfortable stay is yours at our Microtel Inn & Suites by Wyndham Aztec, NM hotel. Our 100% non-smoking hotel on the beautiful high plains of New Mexico is just a short trip from Four Corners Regional Airport in Farmington, the Four Corners Monument and the area's canyons, crystal-clear lakes and cultural and recreational attractions.

You'll enjoy free Wi-Fi Internet and free U.S. phone calls at our dog-friendly Aztec hotel, as well as our free Hot and Hearty breakfast, that includes eggs, gravy and bacon, ham, or sausage. Our hotel features a microwave, refrigerator and flat-screen TV in all rooms, a laundry facility, meeting room and business center, and parking for all types of vehicles. At day's end, work out in our fitness center, relax in our outdoor pool and jetted tub, and enjoy the crisp evening air by warmth our fire pit.

LOCAL ATTRACTIONS

Catch the dirt-track races at the Aztec Speedway, just steps from our Aztec, NM hotel. Just minutes away, explore the 900-year-old dwellings at the Aztec Ruins. Enjoy the fishing, hiking and sky-blue waters at Navajo Lake, an hour's drive from our hotel, and the striking rock formations of Chaco Canyon, two hours away. For local nightlife visit Sunray Casino, just a 20-minute drive from our hotel, or stand at the intersection of four states at the Four Corners Monument, an hour and a half away.

DINING OPTIONS

Try Four Corners standout Thai Basil, just minutes away, for the best Thai food for miles. The pastries are fresh and flaky at nearby Brown Bag Bakery, which also has a selection of sandwiches and soups. Grab an icy root-beer float and juicy burger at longtime institution A&W All-American Food, just a short drive from our Aztec hotel. Worth the short drive north is Burritos Y Mas, which serves spicy, authentic local dishes.

BUSINESS AND EVENT FACILITIES

Hold your next event or banquet in our spacious meeting room. We offer printing, free Wi-Fi Internet in our meeting room and public areas, and access to computers and a film projector.
---
Hotel Features

Free WiFi
Free Hot Breakfast with bacon, ham, or sausage
Free Parking including Bus and Truck
Free Local Calls
Outdoor Pool and Spa
Gas Grill and Outdoor Fire Pit
Meeting Room and Conference Room
Fitness Room & Business Center
Flat Screen TV HD and Extended Channels
Fridge, Microwave, Hair Dryer, Coffee Maker
Desk and Chair
Pet Friendly Rooms available for a Fee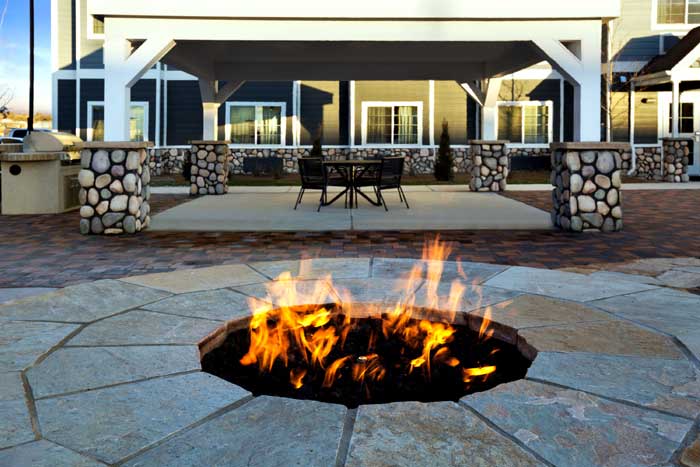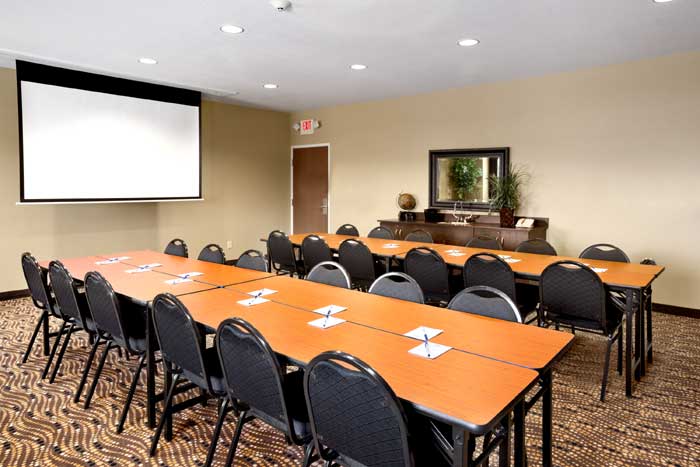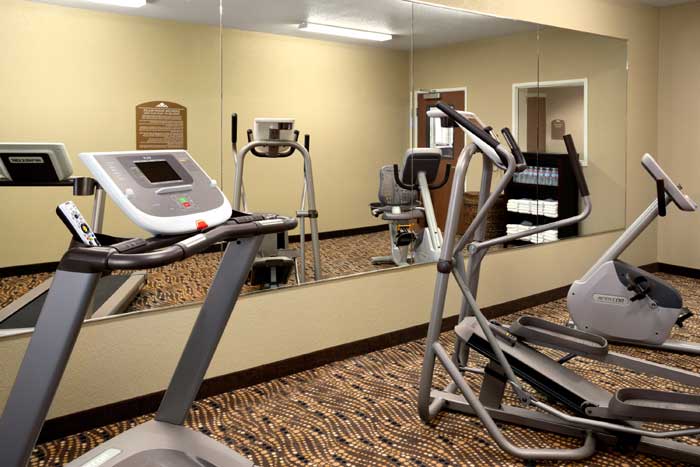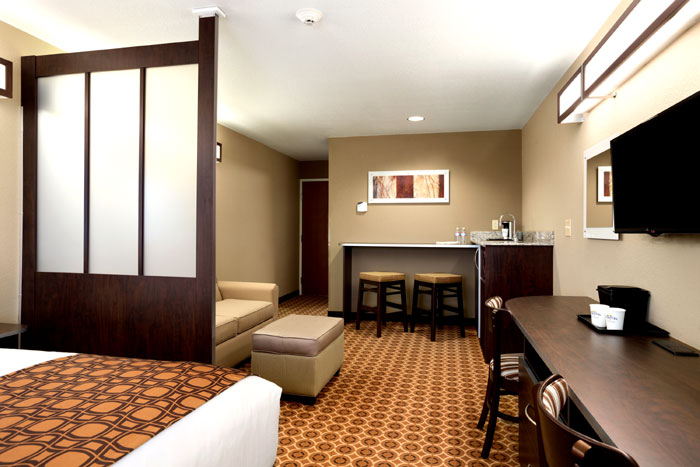 Activities : Aztec, New Mexico's lands are diverse, encompassing high deserts, National Monuments and National Conservation Lands. Enjoy the boundless opportunities such as hiking, hunting, fishing, camping, horseback riding, and much more!
Airport :Aztec Municipal Airport 802 Airport Dr Aztec, NM (505) 334-1002
Attractions : Explorers, rustlers, homesteaders, wildcatters, railroaders... Aztec's effervescent history epitomizes the Great American West. Today, we are a community rich in multi-cultural heritage, civic pride and ancestral traditions. Come play with us
Casinos : An experience unlike any other, Aztec, New Mexico casinos offer a new class of excitement and gaming action.
Dining : No adventure in Aztec, New Mexico is complete until you have experienced our cuisine. Unlike any other, it is a blend of flavors from Spanish and Native American cultures that has been perfected over the course of 400 years. At the center of it all is the New Mexican chile, in both red and green varieties, which is used in everything from enchiladas to ice cream! Experience and enjoy the wonderful flavors of Aztec, New Mexico.
Golf : Enjoy year round golfing in Aztec, New Mexico. You'll find some of the finest championship courses in the world right here.
Government : There are so many extraordinary things about Aztec. Locals and visitors alike boast about this intimate, river-runs-through-it community where the buzz is about fabulous events, top-shelf recreation, enviable climate, rich history and eclectic, small-town pleasures. Aztec fulfills the recreationalist, entices the cultured, beckons the explorer, and makes peaceful the nomadic. It's a town of close-knit neighbors, of pioneer-strong family values, of love of the land. This is Aztec: Your Four Corners Playground Since 1100 A.D.
Hospitals :San Juan Regional Medical Center 801 W Maple St, Farmington, NM 87401 (505) 609-2000 Healthcare for Generations San Juan Regional Medical Center is an acute care hospital in the Four Corners region with 194 licensed beds. As a sole community provider of hospital services in San Juan County, New Mexico, the hospital delivers a remarkable range of healthcare services not only to the citizens of San Juan County, but to the people of the entire region.
Shopping : When shopping in Aztec, New Mexico and surrounding areas, you'll find inspired art, collectables, antiques and "Made in New Mexico" products you won't find anywhere else!
University : San Juan College and New Mexico State University 213 South Oliver Drive Aztec, NM (505) 334-9496 Academic Programs Welcome to the College of ACES Students, faculty, staff, alumni and friends of the College of Agricultural, Consumer and Environmental Sciences at New Mexico State University: James "Jim" Libbin Welcome to YOUR ACES Webpage. We hope you will use this ACES webpage as a primary source for current information about your university, your college, your department and your major.
Microtel Inn & Suites by Wyndham Aztec New Mexico NM Hotels Lodging Accommodations Budget Affordable Motels Cheap Vacation Packages Specials Pet Friendly Weddings Business Travelers Business Meetings Extended Stay